Each year, hundreds of thousands of women die giving births. Click on the link below for a powerful photo essay by Linsey Addario, who followed a live birth of a young mother in Sierra Leone. (Please note: some visuals may be graphic.)
A young mother's death in this photo essay is a real story for many women whose health is a matter of survival. Despite the growing awareness, the reality is harsh. The Millenium Development Goal 5 (improve maternal health) that most directly addresses this tragedy lags far behind other goals, and the weight of the problem lies inequitably heavier on developing countries. 99% of maternal deaths occur in poor countries, and 80% of cervical cancer also takes place in developing countries. 60% of those with HIV/AIDS in sub-Saharan Africa are women, which is a leading cause of death for women between ages 15-44 in the world (WHO). Cultural resistance, prejudice, and stigma attached to health concern such as breast cancer often delays proper treatments.
We at ClickDiagnostics have been asking:
If the resources and the right ideas are out there, how can we identify the wheels in the current system that are not working?
How can we implement a sustainable change instead of one-time boost in resources that will deplete, and bring cost-effective solutions, in addition to low-cost services?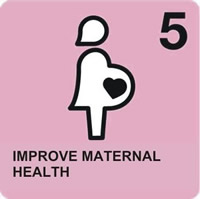 We must first find these answers in order to design right mHealth models in different contexts of developing regions. Stay tuned for the next posting on how ClickDiagnostics builds affordable, self-sustaining maternal and child health solutions.
What are your ideas and stories on using mHealth for better maternal, newborn, and child health? Leave us your comments.